Fit for Future: The new monta self-adhesive paper tape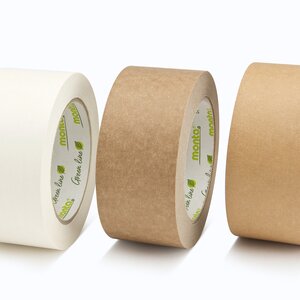 The use of packaging material is globally on the rise, creating a demand for more sustainable solutions. Some reduce the packaging size or substitute petrochemical substances with natural ones, to name a few.

Our new monta self-adhesive paper tape is the next addition to our Green line range of products, which we introduced in November last year.
The new paper adhesive tape is made from 65% renewable resources and is free from synthetic plastics. The paper carrier originates from
sustainable forestry, its natural rubber adhesive from predominantly renewable raw materials. It is manufactured at our monta plant in the South of Germany.
The new monta paper tape offers a reliable
alternative to plastic based adhesive tapes, providing a mono-material packaging solution as well as a more natural look.

Its technical properties make the new plastic free tape suitable for many applications. Thanks to its unique natural rubber adhesive a single layer of tape ensures a reliable seal on a great variety of
surfaces. It can be torn by hand and is moisture resistant. Its low noise and smooth unwinding properties make the new monta paper tape also a great ergonomic choice.

Our new paper tape is available in brown and white, and can be printed with water based ink. Thanks to its unique surface it provides best print results, making it an attractive medium for advertising and
information purposes.
This Green line tape is ideal for durable closure of light to medium heavy cartons, as well as for envelopes, bags and boxes. It is available
as hand, machine and printers rolls and can be applied with hand and table dispensers and automated packaging machines.

If you're looking to avoid the investment and constraints of immobile packaging stations associated with water activated tape, the monta
self-adhesive paper tape might be a more flexible and user friendly solution.
The new monta paper tape is perfect for packaging dealers & suppliers, printers, e-commerce businesses, manufacturers of organic
products, green online shops and for anyone putting value on sustainability.
Back