MONTA 124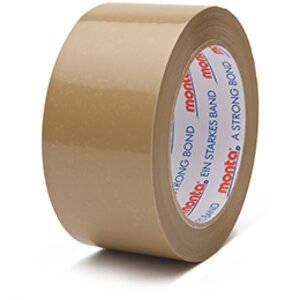 Extra strong for heavy tasks.
If the packaging task at hand is a tough one, there really is just one product, that offers best performance: Our monta 124, a true all-rounder. This universal adhesive tape combines extra sturdy PVC backing with a strong natural rubber adhesive, that we produce using a special recipe. This powerful adhesive encloses single carton fibres, leading to a durable and reliable bond between adhesive tape and carton. Even cartons with a smooth surface, such as recycling cardboard boxes or corrugated boxes can be securely sealed.
monta 124 is also suitable where humidity or temperatures bet- ween -20°C and up to +70°C occur. Ideal where packaged goods are exposed to harsh conditions, even over an extended period of time, e.g. when shipped by sea, monta 124 will with- stand temperature fluctuations, vibration and rough seas. It's even resistant to diluted alkaline or acidic solutions.
Application is easy, whether by hand, hand dispenser or packaging machine. Coupled with its many qualities, monta 124 is the perfect premium adhesive tape where heavy or valuable parts need to be packed. It's used in the automotive, furniture and machine building sector, and for logistics and transportation. But also in the white goods industry, where it's used for various production steps.
And last but not least, monta 124 is printable and therefore also suitable as decorative tape and for marketing purposes.
Zurück