monta 7267 is a splicing tape developed to withstand the physical stress of the thermoforming process.
Made from a rigid PVC backing it tolerates short exposure to elevated temperatures.
Its red coloured natural rubber adhesive ensures a consistent detection by photoelectronic sensors, automatically discarding the non-conformity blister pack that carries the red splicing tape.
It adheres to polar and non-polar substrates.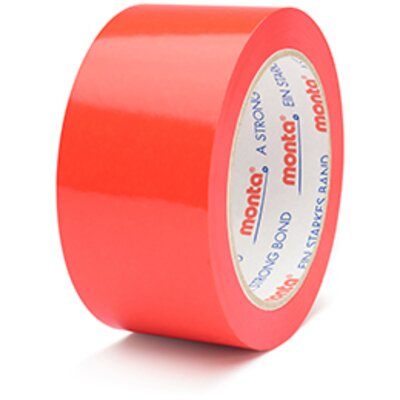 Application
Splicing of web rolls for thermoforming blister packs
Marking where automatic photoelectronic sensors are used
Properties
Thermoformable tape with high flexibility
Red natural rubber adhesive for high immediate tack and adhesion on thermoformable materials
Transparent rigid PVC carrier free from heavy metals and plasticisers, as per Reach & RoHS
Resistant to moisture and diluted acids and alkalis
Heat resistant: up to +80°C (175°F) short term after application at room temperature
Low noise & easy unwinding properties, for manual or automated application
Suitable for recycling
Technical data
Technical data
metric
imperial
Backing
PVC
Adhesive
Natural Rubber
Colour
red
Tensile force
N/25mm
N/cm
min. 60
min. 24.1
lb/in
min. 13.8
Thickness
mm
0.08
mil
3.1
Adhesive strength on steel
cN/25mm
N/cm
500
2
oz/in
18.4
Core Diameter
mm
76
in
3
The values given are typical values, and do not constitute a specification. We recommend testing the suitability of the self-adhesive tape for the designated application or use.
Product features
The more stars the more distinct the listed product feature:
Tensile strength (breaking load)
**
For different surfaces
**
For challenging surfaces
**
Easy and smooth unwinding
**
Printable (***Directly *with primer release)
-
Resistant to diluted acides and alkalies
**
Removeable residue-free
*
Carton sealing (carton weight)
-