Technical Data Sheet: MONTA FILM 256
11/2019
monta film 256 is a transparent protection film for indoor-application. The adhesive tape is especially suitable for the protection of surfaces and technical applications. Because of the backside coating this adhesive tape is easy to unwind.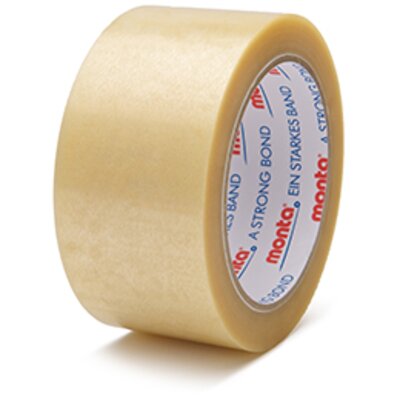 categories
PVC / Natural Rubber / label protection / securing components / surface protection / packaging distributor / converter / glass / doors / furniture / veneer / rades people
PVC
Natural Rubber
label protection
securing components
surface protection
packaging distributor
converter
glass / doors / furniture / veneer
rades people
product features
high tensile strength and stability good immediate tack smooth and low noise unwinding low elongation moisture resistant resistant to diluted acids and alkalies temperature resitant: after application at room temperature from approx. -20°C up to +70°C short term for indoor application suitable for recycling processes
Technical specifications
Technical specifications
unit
Backing
PVC
Adhesive
Natural Rubber
Tensile force
N/25mm
N/cm
mind. 100
mind. 40
Thickness
mm
0,046 ±10 %
adhesive strength on metal
cN/25mm
N/25mm
300 ±150
1,2 ±0,6
Color
transparent
Core Diameter
mm
76
All information is based on manufacturer data. We therefore recommend that the user check the suitability of the self-adhesive tape for the intended use or the application itself.
Product suitability
The suitability of the product for the following properties (0-4).
Tensile strength (breaking load)
**
For different surfaces
**
For challenging surfaces
**
Easy and smooth unwinding
***
Printable (**/***Directly *with primer release)
-
Resistant to diluted acides and alkalies
**
Removeable residue-free
**
Carton sealing (carton weight)
-